Squash Casserole
Recipe courtesy of Mimi
Squash Casserole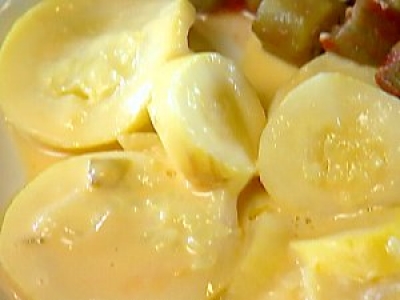 Squash Casserole

2 pounds summer yellow squash, washed and sliced
1 onion diced
1 roll processed garlic cheese
1 stick margarine
1/2 box Ritz crackers (crushed)
2 slices stale white bread cubed
salt and lemon pepper and sugar - just sprinkle some on

Cook squash and onion in small amouint ot water with salt, lemon pepper and sugar. Cut up cheese and stir in squash over low heat until cheese is melted - also melt margarine. Add bread crumbs to thicken. Put in buttered casserole - add crushed Ritz crackers and dot with butter. Bake 350 degrees for 30 minutes or until bubbly.