Cheesecake (Low Fat)
Recipe courtesy of Mimi
Cheesecake - Very Low Fat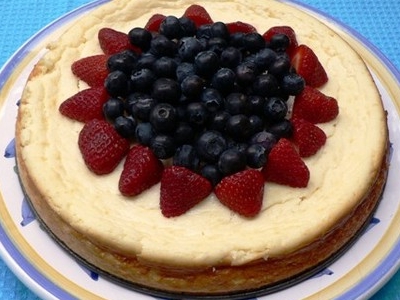 Cheesecake (Low Fat)

1 cup graham cracker crumbs
3 TBSP. sugar
2 TBSP. margarine, melted
3 (8oz) pkg. either Fat Free or Low Fat Cream Cheese
3/4 cup sugar
2 TBSP. flour
3 TBSP. lemon juice
3/4 Cup Cholesterol-Free Egg product
1 (8oz.) carton nonfat lemon yogurt
Redd-Whip Lite whipped topping

Heat oven to 350 degrees. Combine graham cracker crumbs, sugar and margarine; mix well. Pat onto bottom of 9" or 10" springform pan. Set aside. Beat cream cheese, sugar and flour together until light, fluffy and smooth. Gradually add lemon juice and egg product; beat well. Add lemon yogurt and mix thoroughly. Pour over prepared crust. Loosley place aluminum foil overe spring-form pan. Bake at 350 for 60 to 70 minutes or until center of cake is set. Gently run tip of knife between cake and edge of pan. Cool to room temperature before removing rim of pan. Chill. Serve topped with 1 TBSP Reddi-whip Lite on each slice. Makes 12 servings.