Caramel Layer Squares
Recipe courtesy of Mimi
Caramel Layer Squares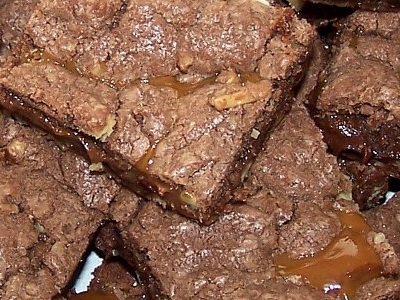 Caramel Layer Squares

14 oz. bag of light caramels (or 50 by bulk)
1/3 cup evaporated milk

1 box German Chocolate cake mix
3/4 cup melted margarine
1/3 evaporated milk
1 cup chopped pecans
6 oz. semi-sweet chocolate chips

Combine caramels and milk in top of double boiler and cook over low heat until caramels are melted. Keep warm

Pre-heat oven to 350 degrees. Grease and flour 13 x 9" pan. In large bowl combine cake mix, margarine, evaporated milk, pecans. Just stir by hand until dough holds together. Put 1/2 of dough into pan and bake 6 minutes. Sprinkle chocolate chips over baked portion, pour hot caramel mixture over that, then crumble and scatter remaining dough over all. Bake 15 - 20 minutes - cool and cut into squares.