Herbed Focaccio Bread
Recipe courtesy of Mimi
Herbed Focaccio Bread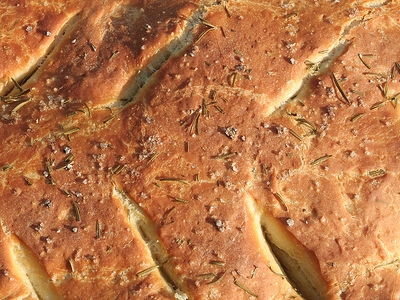 Herbed Focaccio Bread

2 tsp dry Yeast (1 packet)
1 tsp sugar
1 cup water (105 - 115 degrees)

Stir yeast and sugar into the warm water and let stand until foamy.

3 cups bread flour
1 tsp salt
2 TBSP olive oil
1 tsp. crushed dry rosemary
2 TBSP dried oregano
1/4 tsp red pepper flakes (remove seeds before measuring)

Dipping Sauce: Extra Virgin Olive Oil (green) - add crushed, peeled garlic and a little crushed, dry parsley, sage, rosemary and thyme. Also can add a few drops of Balsamic Vinegar.

Another Dipping Sauce: 1/2 tsp. Italian Herb Seasoning or 1/4 tsp. each dried oregano and basil - 1/4 cup Extra Virgin Olive Oil - 2 tsp Parmesan cheese - Freshly ground black pepper - Combine seasoning and olive oil on a 6" plate. Top with Parmesan cheese. Dip slices or pieces of crusty bread into oil.

Mix in Cuisinart (or by hand) Pour in yeast mixture and process until dough clears sides of bowl and then about 40 seconds more.Transfer to oiled bowl.Cover and let rise until double. Punch dough down. Fit on oiled cookie sheet, shaping and pressing into a flat free-form loaf. Let rise until doubled. Brush top with additional olive oil, sprinkle LIGHTLY with coarse salt and bake in a pre-heated oven at 375 degrees for 30 - 35 minutes.
This will make 2 8" circular loaves (in cake pan) if you prefer. Also, you can freeze the doubh after the first rise so as to bake it fresh. Punch dough in pan(s) with your fingers to make indentations before brushing with olive oil.