German Chocolate Cake (Makes 3 big layers)
Recipe courtesy of Mimi
German Chocolate Cake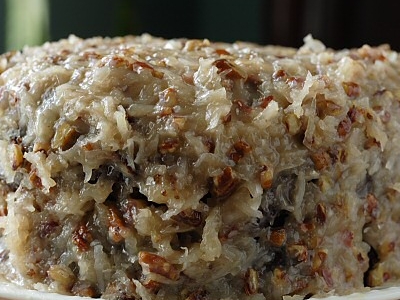 German Chocolate Cake

1 cup shortening
1 cups sugar
4 eggs (separated
1 cup buttermilk
1 bar German chocolate
1 tsp. soda
1/2 cup boiling water
2 cups flour
1/2 tsp salt
1 tsp vanilla
4 egg whites stiffly beaten

Cake Icing: 3 egg yolks
1 tall can milk
1 stick oleo
1 1/2 cup sugar


Beat egg whites, dissolve chocolate in hot water, cream sugar and shortening well, add beaten egg yolks, add 3/4 cup milk - alternating with flour. Dissolve soda in 1/4 cup milk and add to flour mixture. Add 1 TBSP. vanilla and pinch of salt to chocolate. Fold mixture in egg whites. Bake 30 or 40 minutes at 350.

Icing: Mix and cook until it thickens, remove from fire and add 1 tsp. vanilla, 1/4 cup nuts and 1/2 cup coconut.