Chocolate Torte
Recipe courtesy of Mimi
Chocolate Torte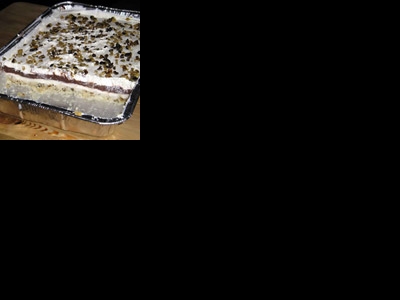 Chocolate Torte

Crust:

1 cup flour
1 cup finely chopped peccans
1 stick melted margarine
Mix well & press into long dish. bake at 350 for 20 minutes (until med. brown) COOL!!!!!

Buy large size Cool Whip. Mix 1 cup of Cool whip, 8 oz pkg softened cream cheese, 1 cup powdered sugar and spread on cooled crust.

For filling:

Mix - 1 small box chocolate Instant Pudding
1 small box vanilla Instant Pudding
2 cups milk


Pour pudding mixture over crust - cover with cool whip - Top with slivered almonds (toasted or plain) and/or chocolate slivers - can also add some maraschino cherries if desired. for a deeper filling - double the filling recipes.