Texas Golden Taffies
Recipe courtesy of Mimi
Texas Pecan Taffies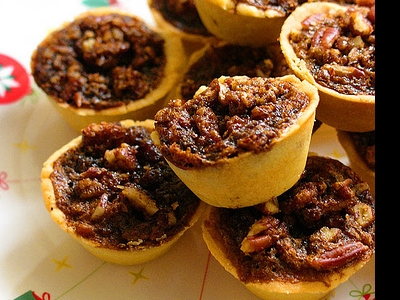 Texas Golden Taffies

Crust:

2 sticks softened margarine
2 - 3oz pkgs. softened cream cheese
2 cups flour

Filling:

2 eggs, beaten with fork
1 1/2 cups brown sugar, firmly packed
dash of salt
2 TBSP. melted margarine
1/2 tsp. vanilla

Mix cheese and marg. with fork, add flour, mix well. divide into 4 parts & chill well. Divide each part into 12 little balls, put into tiny tart pans that have been sprayed lightly with Pam, press around with thumb.



Put almost 1 tsp. of filling in each tart (not all the way to top) - Bake 350 degrees for 15 minutes, reduce heat to 200 degrees for 10 minutes.

Makes 4 dozen

*** If you'd like - bake empty shells at 400 degrees about 20 minutes, then you can fill with favorite lemon, strawberry, chocolate, etc. pie filling.