Cheesy Chicken Enchiladas
Recipe courtesy of Mimi
Cheesy Chicken Enchiladas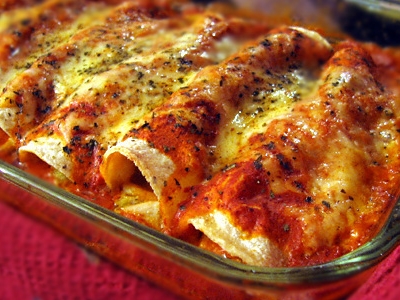 Cheese Chicken Enchiladas

2 cups chopped cooked chicken
1 can Cream of Chicken Soup
8 Flour Tortillas
1 can chili - or Mexican-flavored stewed tomatoes, undrained
1 cup Mexican Style Shredded Cheese

Pre-heat oven to 350 degrees. Combine chicken and soup; spoon evenly down centers of tortillas. Roll up.

Place seam-sides down, in 13 x 9" baking dish - top with tomatoes and cheese. Cover with alumi8num foil.

Bake 30 to 35 min. or until cheese is melted and enchiladas are heated through, removing foil after 20 minutes.