Herbed Squash Casserole
Recipe courtesy of Mimi
Herbed Squash Casserole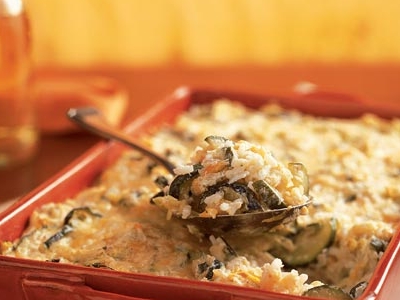 Herbed Squash Casserole

4 TBSP (1/2 stick) butter or margarine
2 cups herb-flavored stuffing mix
1 cup grated sharp cheddar cheese (divided use)
2 cups grated zucchini
2 cups grated yellow squash
1 cup grated carrots
1 small onion, chopped
1 cup sour crea
Salt & pepper to taste

Preheat oven to 350 degrees. Melt the butter in 2-qt. microwave-save baking dish. Stir in the stuffing mix and 1/3 cup of the grated cheese. Reserve 1/2 cup of the stuffing mixture for the topping.

In a mixing bowl, combine zucchini, yellow squash, carrots and onion. Stir in sour cream and remaining cheese. Pour into baking dish over the 1/2 of stuffing mixture - spread evenly. sprinkle with other half of stuffing mixture and bake for 40 - 45 minutes, until bubbly and lightly browned. Makes 6 servings.