Muffuletta Sandwich
Recipe courtesy of Mimi
Muffuletta Sandwich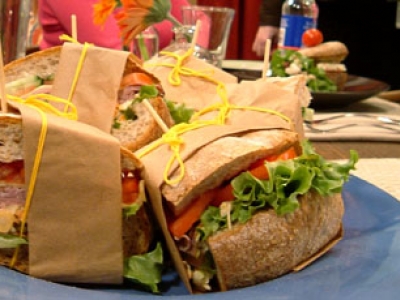 Muffuletta Sandwich

Olive Salad:
1 cup each green and black olives, coarsely chopped
1 TBSP tiny capers
1/3 cup diced (1/4") roasted red bell pepper
1/4 cup diced (1/4") celery with leaves
2 TBSP chopped flat-leaf parsley
2 tsp finely minced garlic
2 TBSP. red-wine vinegar
2 TBSP. olive oil
Salt & Pepper to taste
1 round peasant bread (about 7" in diameter, 5 inces high, halved crosswise, insides pulled out
4 oz each thinly sliced Genoa salami and mortadella (found in the deli section)
4 oz thinly sliced provolene cheese

Prepare olive salad ahead of time: Combine all ingredients and set aside in frige for 4 hours or longer. Assemble the sanddwich: Spread half of Olive Salad on bottom half of bread. Layer with salami, provolone and mortadella, then top with remaining Olive Salad. Cover with the top of the bread, press down and let stand for 10 - 15 minutes. Wrap the sandwich in plastic wrap and let stand for 1 hour. Unwrap, cut into 6 wedges using serrated knife, then wrap them until ready to eat.