Chile Rellenos Quiche
Recipe courtesy of Mimi
Chili Rellanos Quiche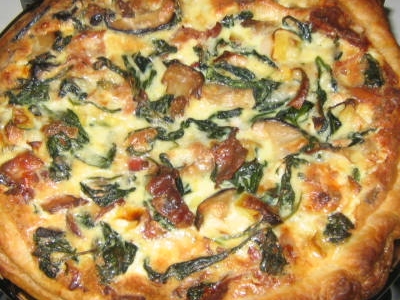 Chile Rellenos Quiche

1 9" pastry shell
2 cups grated Monterey Jack cheese
1 4 oz can diced green chiles, drained
4 eggs
1 cup half-and-half
1/4 tsp. pepper
Taco sauce
Egg Topping (optional, recipe follows)


Pre-heat oven to 475 - Bake pastry shell for 5 minutes. Reduce oven to 375 - Sprinkle 1 cup cheese in the partially baked crust. Layer with half the chiles. Sprinkle with remaining cup of cheese. Add remaining chiles (more, if you like it hot). Mix together eggs, half-and-half and pepper and pour over chiles. Bake in 375 oven for 30 minutes. Serve with taco sauce. Or, add Egg Topping, bake and serve. Makes 6 - 8 servings.

Egg Topping: In a small bowl, beat 2 eggs whites until very stiff. Fold in 2 egg yolks, slightly beaten, until just blended. Spoon over baked quiche. Be sure to seal topping to edge of crust. Return to oven and bake at 375 degrees for 15 minutes, or until golden brown.