Make-Ahead Mashed Potatoes
Recipe courtesy of Mimi
Make-Ahead Mashed Potatoes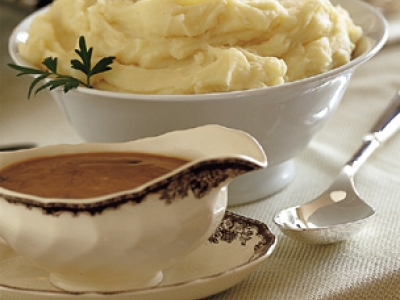 Make-Ahead Mashed Potatoes

1 cup sour cream
1 8 oz package cream cheese, softened
8 - 10 medium sized potatoes, peeled and boiled until tender
6 TBSP. butter or margarine (divided use)
1/3 cup chopped chives (optional)
Salt & pepper to taste
3/4 cup grated Parmesan cheese (divided use)

Beat sour cream and cream cheese together. Add the hot, drained potatoes. Beat until smooth. Add 4 TBSP. butter, optional chives, salt and pepper.

Rub the inside of a 3 qt. souffle dish with 2 TBSP softened butter. Sprinkle 1/4 cup grated Parmesan into the dish, and tip the dish, so that the cheese adheres to the butter. Turn the potatoes into the souffle dish and dot with butter and sprinkle with remaining 1/2 cup cheese. Refrigerate 2 to 3 days.

To serve, bake at 350 degrees for 25 minutes, until golden. Makes 10 servings.