Excellent Chocolate Pie
Recipe courtesy of Mimi
Excellent Chocolate Meringue Pie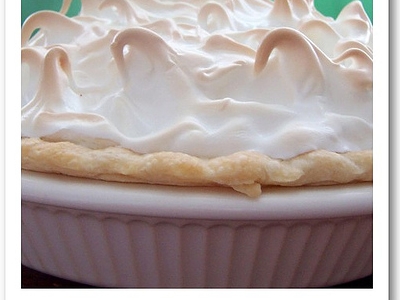 Excellent Chocolate Pie

1 cup plus 6 TBSP. sugar (divided use)
2 heaping TBSP. cocoa powder
1/8 tsp. salt
3 1/2 TBSP flour (+ a little)
3 large eggs, separated
2 cups whole milk (scant)
1 TBSP vanilla + 1 tsp. for meringue
Baked 9" pie crust

Add 2 -3 inches of water to the bottom of double boiler. In top of double boiler, combine 1 cup sugar, cocoa, salt and flour. Add egg yolks and milk, stirring until well mixed. Place double boiler over medium heat and bring water to a gentle boil. Stirring constantly, cook filling 10 - 15 minutes or until thick enough to coat a spoon, like pudding. Remove from heat and cool to room temperature. Add 1 TBSP. vanilla.

In medium mixing bowl, beat egg whites on high speed until soft peaks form. Add 6 TBSP. of sugar, 1 TBSP at a time, beating constantly. Beat egg whites until stiff & glossy. Ad 1 tsp vanilla.

Pour filling into baked pie shell. Top with beaten egg whites, being careful to completely cover filling, sealing at edges of crust. Bake for 5 - 8 minutes or until light golden on the peaks. Remove and cool. Refrigerate at least 2 hours to set. Makes 8 servings.