Frogmore Stew
Recipe courtesy of Bud Layne
Frogmore Stew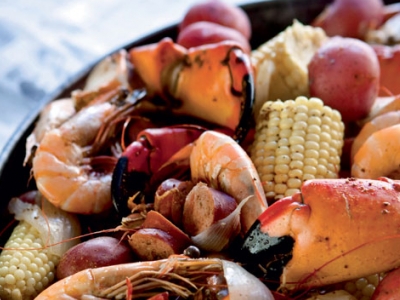 Great for camping trips!

3 lbs. large fresh shrimp in shell
2 lbs. smoked sausage, cut into 4 pieces each
4 ears of corn cut in half, or 8 small frozen ears of corn
4 small white onions
12 small new potatoes
2 bags shrimp/crab boil
1 stick of butter
1 can of beer, room temperature
2 teaspoons Tony Chachere's Creole seasoning


In a large stew pot, bring 8 quarts of water to a boil.
Add 2 bags of shrimp/crab boil, and cook for 15 minutes.
Add butter, beer, Tony Chachere's, and sausage, and cook another 15 minutes.
Add potatoes and onions and cook another 20 minutes.
Add corn and cook another 5 minutes.
Add shrimp and cook another 2 minutes.
Immediately take the pot off of the fire, and add a double handful of ice.
Let sit for 5 minutes, drain well and serve with tongs.
Note: You can spread on newspaper and let everyone serve themselves.
Feeds 4 – 5 people.