Smoked Pork Tenderloin
Recipe courtesy of Sharon Layne
Smoked Pork Tenderloin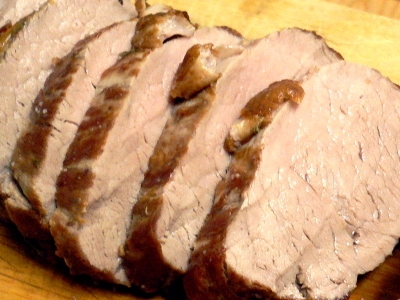 Creole Influenced Pork Tenderloin

2 pork tenderloins (packaged from Sam's or Costco)
¼ cup of olive oil
¼ cup of soy sauce
¼ cup of teriyaki sauce
2 ½ oz. of 'Tiger Sauce' (1/2 bottle)
Tony Chachere's Creole seasoning
Lemon pepper
Granulated garlic

Remove silver skin from pork tenderloins and place them in an aluminum pan.
Cover with marinade (olive oil, soy sauce, teriyaki sauce and Tiger sauce).
Sprinkle on spices (Tony Chachere's, lemon pepper and granulated garlic).
Cover pan with aluminum foil and marinate for 1 hour or longer.
Start your grill with the coals to one side.
When hot, place the pork directly over the fire and sear slightly on all sides.
Dip seared pork in the marinade and place on grill away from coals.
Optional: Add favorite wood chips to coals for smoked flavor.
Cook on medium heat for 45 minutes.
Remove from grill and place in a baking dish.
Cover and cook in the oven at 250 degrees for 2 hours.
Remove from oven and let sit for 15 minutes.
Slice and serve
Feeds 4 people.