Pecan Brittle (Microwave)
Recipe courtesy of Mimi
Pralines (Microwave)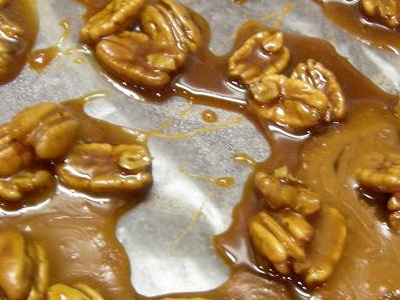 Pecan Brittle (Microwave)

1 1/2 cups pecans, chopped
1 cup granulated sugar
1/2 cup light corn syrup
1/8 tsp salt
1 tsp margarine
1 tsp vanilla
1 tsp baking soda



Stir together pecans, sugar, syrup and salt in a real large glass mixing bowl that is microwave safe. Cook 4 mintes on High (100 percent power). Stop; stir well, then return to the micro and cook on High 4 mor minutes. Stop; stir in margarine and micro for 2 minutes on High. Stir in vanilla, then add baking soda, stirring quickly until light and foamy. Immediately pour out onto a lightly buttered surface (cookie sheet will work)and spread to about 1/4 inch thickness. When cool, break into piecfes. Store in an airtight container. Makes 1 pound.