Chicken or Turkey A La Queen
Recipe courtesy of Mimi
chicken or turkey a la queen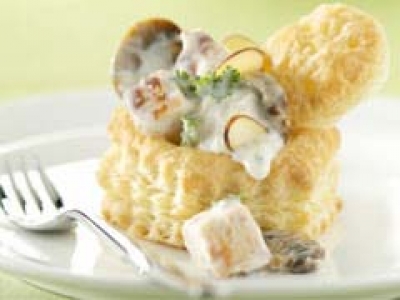 Chicen or Turkey A La Queen

6 Pepperidge Farm Frozen Patty Shells
2 TBSP margarine
1/4 cup margarine
2 TBSP flour
Dash of pepper and Paprika
1 tsp salt
1 1/2 cups Half-and-Half cream
1 egg yolk, beaten with fork
2 cups turkey or chicken, cooked and cut into bite size pieces
1 1/2 cups seedless grapes (if desired)



Prepare shells according to package directions.

In 1st amount of margarine - saute slivered almonds until light, golden brown - drain on paper towel and set aside.

Bring water to boil in bootom of double boiler. In top part of double boiler melt 2nd amount of margarine; add flour, pepper, paprika and salt - stirring until blended and smooth. Slowly add cream, stirring constantly. Pour small amount of sauce over beaten egg yolk. Return yolk mixture to remaining sauce, continuing to stir until smooth and thickened. Add turkey or chicken and grapes, if using. Heat gently. Spoon mixture into warm patty shells - top with toasted almonds and top with "top" portion of patty shells.