Lasagna (Vegetable)
Recipe courtesy of Mimi
Vegetable Lasagna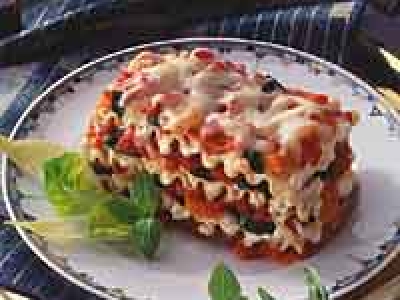 Lasagna (Vegetable)

1/2 of a 1 pound pkg Lasagna noodles, uncooked
2 26 oz jars spaghetti sauce (tomato basil and onion and garlic are good)
1 15 or 16 oz container ricotta cheese
1 10 oz. package frozen chopped spinach, thawed and well, well drained
1 pound shredded mozzarella cheese, divided
1/2 cup grated Parmesan cheese
2 eggs, beaten
chopped parsley


Prepare Lasagna noodles according to pkg. directions: drain. In medium bowl, combine ricotta, spinach, 1/2 cup mozzarella, Parmesan and
eggs: mix well. In 15 x 9 inch baking dish, layer 2 cups sauce, half the lasagna, half the remaining sauce, all of the spinach mixture, half the remaining mozzarella, remaining lasagna and sauce. Cover. Bake in a 350 degree oven until bubbly - about 45 minutes. Uncover. Top with remaining mozzarella and parsley. Bake 15 minutes. Let stand 10 minutes before serving. Makes 12 - 15 servings.