Texas Rice (Microwave)
Recipe courtesy of Mimi
Texas Rice (Microwave)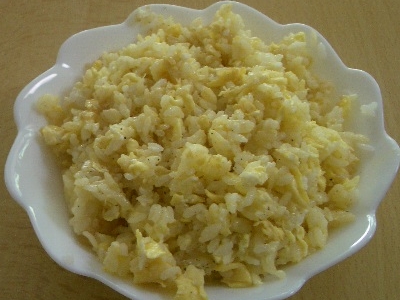 Texas Rice

2 cups water
2 tsp instant chicken bouillon granules
1 cup uncooked long grain white rice
1 pint sour cream
2 4 oz. cans chopped green chiles
8 oz. shredded Monterey Jack cheese
Paprika

To cook rice: Place water in a 3 quart covered casserole, microwave on High 6 minutes, or until water boils. Add bouillion and rice; stir. Cover and microwave on High 3 miniutes; then microwave on 30 percent (Medium-low) 12 minutes, or until water is absorbed. Fluff with fork and let stand 5 minutes.

To assemble casserole: Make three layers each of the following: cooked rice, sour cream, green chilies with liquid and Monterey Jack cheese. Cheese should top the last layer. Sprinkle with paprika and microwave on 50 percent (Medium) 9 to 10 minutes, or until casserole is heated through and cheese is melted, rotating dish once. Serves 8 - 10 people. Recipe may easily be halved. Note: Casserole may be assembled in advance and refrigerated. Mocrowave on 50 percent until heated thru.