Rice Pilaf
Recipe courtesy of Mimi
Rice Pilaf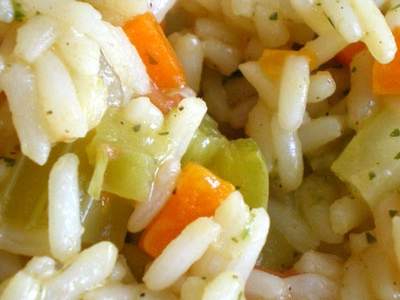 Rice Pilaf

2 TBSP margarine
1 medium chopped onion (about 1 cup)
1/2 cup chpped pecans
2 cups chicken broth
2 cups water
1 cup golden raisins
2 TBSp grated orange rind (colored part only)
2 TBSp orange juice
2 Tbsp oil
Salt & pepper to taste

In heavy-bottom saucepan, melt margarine. Add onions and pecans. Stir constantly until onions are translucent, about 6 minutes. Add rice and stir well to coat with margarine. Cook 1 or 2 minutes, stirring constantly. Add liquid and bring to a boil, then reduce heat and simmer for about 15 minutes, or until rice is just tender. Remove fromheat and let stand, covered, for 5 minutes.

Preheat oven to 350 degrees. Fluff with a fork and transfer to bowl. Add raisins, orange peel, orange juice, oil and salt and pepper to taste. Turn into an ovenproof casserole and cover tightly with aluminum foil. (May be prepared in advance to this point and refrigerated overnight.) Bake for 20 minutes or until rice is heated through. Makes 8 servings.