Banana Cream Pie
Recipe courtesy of Mimi
Banana Cream Pie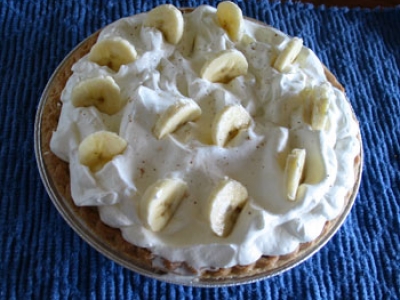 Banana Cream Pie

1 9" baked pastry shell
3 TBSP cornstarch
1 2/3 cups water
1 (14 oz) can Eagle Brand Sweetened Condensed Milk
3 egg yolks, beaten
2 TBSP margarine
1 tsp. vanill
3 medium bananas, sliced and dippied in lemon juice and drained
Whipped Cream

In heavy saucepan, dissolve cornstarch in water; stir in sweetened condensed milk and egg yolks. Cook and stir until thickened and bubbly. Remove from heat; add margarine and vanilla. Cool slightly. Arrange 2 bananas on bottom of baked pastry shell. Pour filling over bananas; cover. Chill 4 hours or until set. Spread top with whipped cream; garnish with additional banana slices. Refrigerate leftovers.