Lemon Meringue Pie
Recipe courtesy of Mimi
Lemon Meringue Pie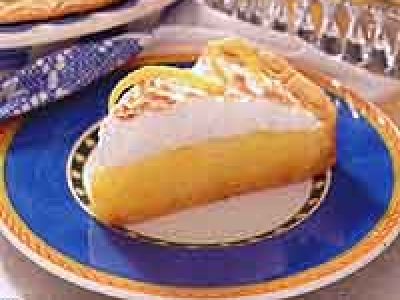 Lemon Meringue Pie

1 1/2 cups sugar
1/2 cup cornstarch
1/8 tsp. salt
4 egg yolks (save whites for meringue)
1 3/4 cups water
1/2 cup lemon juice
3 TBSP margarine
1 tsp. grated lemon rind
1 baked 9-inch pie crust

Pre-heat oven to 325 degrees. Combine sugar, cornstarch and salt in a saucepan. Set aside. Combine egg yolks, water and lemon juice. Stir into sugar mixture. Cook over medium heat, stirring constantly until mixture thickens and boils. Boil 1 minute, stirring constantly. Remove from heat. Stir in margarine and lemon rind. Spoon into baked crust. Spread meringue over hot filling. Bake about 25 minutes or until meringue is golden. Makes 8 servings.

Meringue: Beat 4 egg whites until foamy. Gradually add 1/4 cup sugar and beat until stiff peaks.