Taco Scramble
Recipe courtesy of Carrie
Taco Scramble!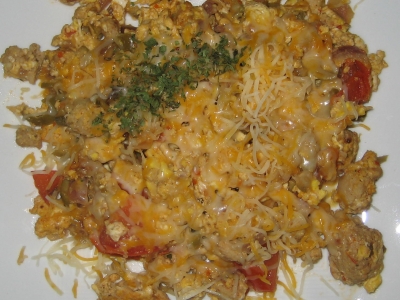 I usually make this for breakfast after I have saved some turkey from making tacos the night before!

Ground turkey
Taco Seasoning
Garlic
Onion
Eggs
Shredded Cheese
Tomatoes
Jalapenos
Salsa
Olives
Cilantro


Sautee diced onion and garlic in butter on the stove. Add the ground turkey to the same skillet and add taco seasoning. Once turkey is cooked, put pan to the side.

In a new pan, add diced tomatoes, salsa, and jalapenos. Stir these and let it cook on medium heat until the water evaporates from the vegtables and mixture becomes pasty.

Scramble your eggs and pour into the tomato mixture. Mix this around until eggs are cooked, then add turkey mixture.

Put eggs on a plate and garnish with cheese and fresh cilantro.

*You can also add sour cream, if you like, and put this into a tortilla for breakfast tacos!