Ash's Stuffed Phyllo Bites
Recipe courtesy of Ash Wicks
Dip these in Carrie's Homemade Ranch and you're good!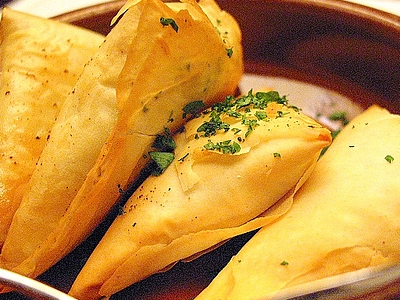 Super easy and soooo good!

1 Box Phyllo Pastry/ Puff Pastry Sheets (thawed)
Pesto (I bought the pesto that was by the spaghetti sauces)
Mozzarella cheese, shredded
Goat Cheese
Walnuts or Pecans



Preheat oven to 400 degrees. Cut each third of the pastry into 3 squares and press out. In center, put about ½ teaspoon of pesto, 1 tablespoon of mozzarella cheese, a little goat cheese (optional) and nuts. Fold over and roll all the edges up and press down. Brush tops lightly with oil or a beaten egg. Grease pan. Put in oven for 15 minutes. Cut in half AND EAT!



You can also put other fillings in like sun dried tomatoes, mushrooms, olives, different cheeses, or meat. You can also use it for dessert- apples and brown sugar, nutella and blueberries…etc.

*I make different empanadas (pretty much the same thing) with biscuit dough. I cook crumbled Italian sausage, shredded cabbage, onions, shredded cheddar cheese, sliced jalapenos, salt, and pepper. You cook that in a pan, fill the biscuit and fold over. Cook for however long the directions on the dough say.