Crock Pot Chicken Italiano
Recipe courtesy of Mimi
Crock Pot Chicken Italiano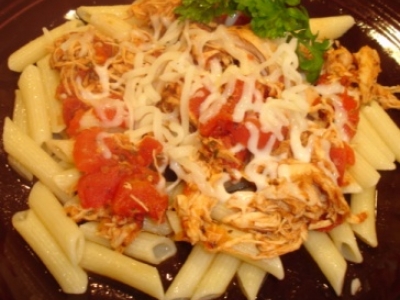 Crock Pot Chicken Italiano

4 chicken breasts, boneless, cut into bite size pieces
1 - 16 oz. can of chopped tomatoes
1 large green pepper, diced
1 small onion, diced
1 rib of celery, diced
1 medium carrot, peeled and diced
1 by leaf - remove before serving
1 tsp. dried oregano
1 tsp. dried basil
1/2 tsp. dried thyme (optional)
2 cloves of garlic, chopped; or 2 tsp. garlic powder
1/2 tsp. salt
1/2 tsp. red pepper flakes
1/2 cup grated Parmesan or Romano cheese

Mix all ingredients EXCEPT grated cheese, put in crockpot. Cook on low 6 -8 hours. Sprinkle with grated cheese before serving. Good over rice or pasta.