Chicken & Asparagus Stir-Fry
Recipe courtesy of Mimi
Chicken & Asparagus Stir Fry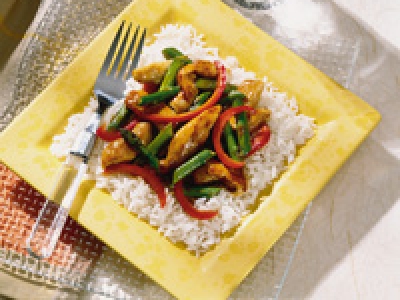 Chicken & Asparagus Stir-Fry

Stir together:
3 TBLSP soy saude
3 TBLSP fresh lemon juice
1 tsp. grated lemon zest (yellow part only
1 tsp. cornstarch

Add 3/4 pd. chicken breasts, cut in strips and coat well with marinade.
Cover & refrigerate 15 - 30 minutes

Heat 1 TBSP oil in large, nonstick skillet over medium-high heat. Add 2 garlic cloves, finely chopped and fry till softened. Reserving the marinade, add the chicken, followed by 4 scallions, cut into 1" diagonal pieces, 1/2 pound asparagus, cut into diagonal pieces (discard tough part of spear), and 1 julienned carrot. Stir fry for 3-4 minutes or until chicken is no longer pink

Add marinade and cook until sauce is slightly thickened, about 1 minute. Makes 4 servings.