Sour Cream Chicken Enchiladas
Recipe courtesy of Mimi
Sour Cream Chicken Enchiladas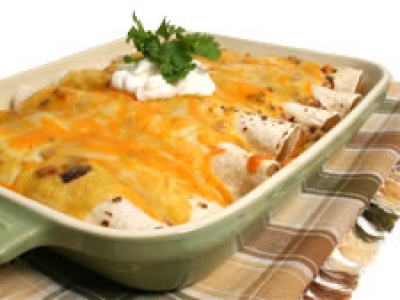 Sour Cream Chicken Enchiladas

1 stewed chicken (or chicken breasts), cut into small pieces
2 tsp. ground cumin (divided use)
1 tsp chili powder
1/2 cup butter
1/2 cup flour
1 cup chicken broth
1 cup half-and-half cream
1 tsp. salt
sprinkle some black pepper
1 point sour cream
1 pkg (12) 6" corn tortillas
Picante Sauce
1 lb Cheddar cheese, grated (or a little less)



Season cut up chicken with one tsp ground cumin and chili powder. Combine butter and flour in medium sauce pan; cook over medium heat for two minutes. Remove from heat and stir in chicken broth, half-and-half, salt, remaining ground cumin and pepper. Return to heat and stir until thick and bubbling. Remove from heat and stir in sour cream. To assemble enchiladas, steam tortillas to soften, or heat briefly in 1/2" oil in skillet. top with chicken and about one tablespoon picante sauce. Roll and place seam side down in large casserole - 9 x 13. Top with sauce and sprinkle with grated cheese. Bake uncovered at 350 degrees for 30 minutes, until cheese has melted and it's bubbling around the edges. Makes 12 large enchiladas.