Chicken Enchilada Casserole
Recipe courtesy of Mimi
Chicken Enchilada Casserole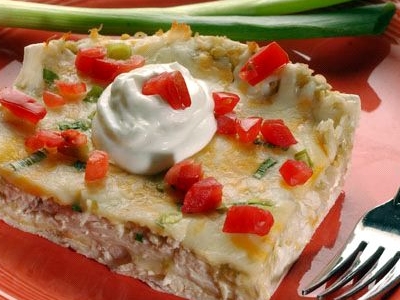 Chicken Enchilada Casserole

1 stewed 2 lb chicken, cut into bite size pieces
or 1 cooked ground beef
2 pkgs. soft corn tortillas (break each one into about 6 pieces
1 chopped green pepper
1 chopped onion
1 can cream of chicken soup
1 can cream of mushroiom soup (if using chicken)
or 2 cans creams of mushroiom soup (if using ground beef)
1 pd. grated cheddar cheese
1 can Rotel

Put all ingredients (except meat and tortillas) into blender to mix.

Lightly grease a long casserole dish.

Put: layer of meat, layer of broken soft corn tortillas, about half of liquid mixture, about half of grated cheese. Layer again in the same order.

Bake 350 degrees for 40 minutes.

Serve with green salad and heated crispy tortillas.