Enchilada Chicken Pie (Microwave)
Recipe courtesy of Mimi
Enchilada Chicken Pie (Microwave)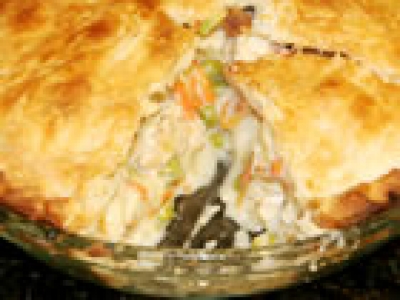 Enchilada Chicken Pie (Microwave)

1 Pie crust
4 eggs
1 tsp Worcestershire
1 5 oz. can cooked white meat chicken drained (3/4 cup)
1 cup chopped onion
1 4 oz can chopped green chilies, drained
1/2 cup (4oz) shredded Monterey Jack cheese
1/2 (2 1/4 oz can sliced ripe olives drained (3/4 cup)
1/2 cup milk
1/2 tsp salt
1/4 tsp ground cumin
1/8 tsp garlic powder
1/8 tsp pepper
3 drops hot pepper sauce (Tobasco)
chili powder - salsa - sour cream - optional, avocado slices

Prepare pie crust and prick with fork well. Blend 1 egg with worcestershire and brush some lightly over crust. reserve rest. Micro on High 6 - 8 minutes - rotate every 2 minutes. Crust should be dry and flaky. Chop chicken and place in crust. Put onions in 2 cup measure - cover with plastic wrap and micro High 3 minutes or until crisp tender. Drain onions and layer over chicken along with chilies, cheese and olives.

To reserved egg mixture add 3 eggs, milk, salt, cumin, garlic powder, pepper, hot pepper sauce - blend well. Pour mixture over ingredients in crust. Sprinkle with chili powder - Rotate midway thru cooking - Micro on 70% (Med. Hi) 12-14 minutes or until set. Let stand 10 minutes before serving. Makes 6 servings (493 calories each). Serve
with fresh fruit salad.