PECAN BRITTLE
Recipe courtesy of Mimi
Pecan Brittle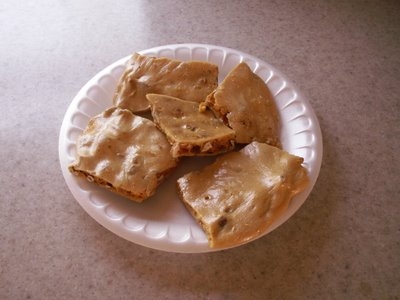 Best Pecan Brittle Ever

1 ½ CUPS CHOPPED PECANS (NOT REAL FINELY CHOPPED)
1 CUP GRANULATED SUGAR
½ CUP LIGHT CORN SYRUP
1/8 TSP. SALT
1 TSP BUTTER OR MARGARINE
1 TSP VANILLA
1 TSP BAKING SODA


STIR TOGETHER PECANS, SUGAR, SYRUP AND SALT IN A 1 ½ QUART GLASS CASSEROLE OR MICROWAVE-SAFE CONTAINER. COOK 4 MINUTES ON HIGH (100 PERCENT POWER). STOP, STIR WELL, THEN RETURN TO THE OVEN AND MICROWAVE ON HIGH 4 MINUTES LONGER. STOP, STIR IN BUTTER AND MICROWAVE FOR 2 MINUTES ON HIGH. STIR IN VANILLA, THEN ADD BAKING SODA, STIRRING QUICKLY UNTIL LIGHT AND FOAMY. IMMEDIATELY POUR OUT ONTO A LIGHTLY GREASED BAKING SHEET AND TRY TO SPREAD TO ABOUT ¼ INCH THICKNESS. WHEN COOL, BREAK INTO PIECES. STORE IN AN AIRTIGHT CONTAINER. MAKES ONE POUND.