Best Ever Lemon Pie
Recipe courtesy of Mimi
Best Ever Lemon Pie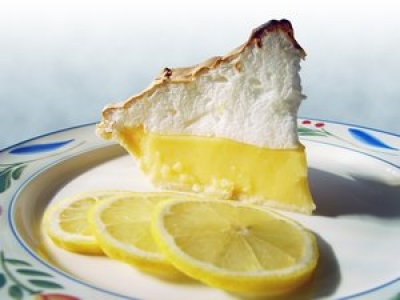 Best Ever Lemon Pie

2 cups sugar (divided use)
1 1/2 cups plus 1/3 cup water (divided use)
3/4 tsp. salt (divided use)
1/2 cup cornstarch
4 egg yolks, slightly beaten
1/2 cup lemon juice
3 TBSP. butter
1 tsp. grated lemon zest
4 egg whites
Baked pastry for 1 crust pie

Combine 1 1/2 cups sugar, 1 1/2 cups water and 1/2 tsp. salt; heat to boiling. Mix cornstarch and 1/3 cup water to make a smooth paste; add to boiling mixture gradually, stirring constantly; cook until thick and clear. Remove from heat. Combine egg yolks and lemon juice; stir into thickened mixture. Return to heat; cook, stirring constantly, until mixture bubbles again. Remove from heat; stir in butter and lemon zest. Cover and cool until lukewarm.
To make meringue, preheat oven to 325 degrees. Add 1/4 tsp. salt to egg whites; beat until frothy. Gradually add remaining 1/2 cup sugar, beating until glossy peaks form. Stir 2 rouinded TBSP. into lukewarm pie filling. Pour filling into cool 9" pie shell; pile meringue on top; spread evenly to edge of crust.

Bake for 15 minutes until lightly browned. Cool at least 1 hour on rack before cutting. Makes 6 - 8 servings.