Fresh Strawberry Pie
Recipe courtesy of Mimi
Fresh Strawberry Pie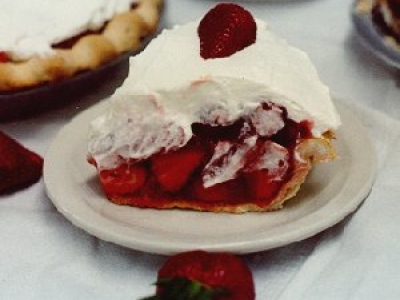 Fresh Strawberry Pie

1 - 9" baked, cooled pie shell
1/2 pint whipping cream (whipped
1 pint fresh strawberries, sliced
1 small pkg. strawberry jello

Combine:
1 cup sugar
3 TBSP cornstarch (scant)
1 1/4 cup water


Cook sugar, cornstarch and water until clear & remove from heat. Add a few drops red coloring & 4 (scant) TBSP strawberry jello (dry powder). Stir in well and let cool to room temperature. Line pastry with sliced strawberries. Add filling. Chill until thick. Top with sweetened whipped cream and garnish with strawberries.